ABOUT US - A BRIEF HISTORY
OVER A DECADE OF WINNING BIDS
We were founded in 2007 with a specific mission to help companies of all sizes and from all sectors improve their bid documents and achieve a higher return on the investment made in bid projects.
We quickly acquired a solid client base which enabled us to grow and take on new staff. Bid Perfect now has a diverse range of customers which spans small independent companies right through to global corporates. We have consulted, trained and placed bid professionals in the UK and globally. Typically, when a company uses our services, they come back to us and we forge lasting, mutually rewarding relationships.
​Wherever you are in the world, Bid Perfect has a winning solution for you.
Book an initial consultation today
OUR STRUCTURE
BID PERFECT IS DIVIDED INTO FIVE DIVISIONAL DISCIPLINES:
Bid Academy Training - from one individual to complete corporate programmes

Interim Bid Personnel - experts available for all bid disciplines 

Bid Process Consulting - ensuring a maximised return on investment 

Permanent Recruitment for Bid Personnel - finding exactly the right person to join you 

Media Services (Perfect Media) - graphics, films and digital bid transfers
Profiles of our permanent core team can be found on Our People page. Supporting the core team is a group of interim professional bid Associates whom we use regularly.​
Our Associates are all meticulously checked and tested to confirm they are best bid people available.
Bid Perfect training is high impact and (more importantly) easy to adopt and adapt. We have techniques which can be deployed by delegates immediately. This is what differentiates us; you learn to write winning bids immediately without having to endure a long, drawn out learning process. To find out more about our Bid Skills course, visit the Bid Skills course overview.
OUR VALUES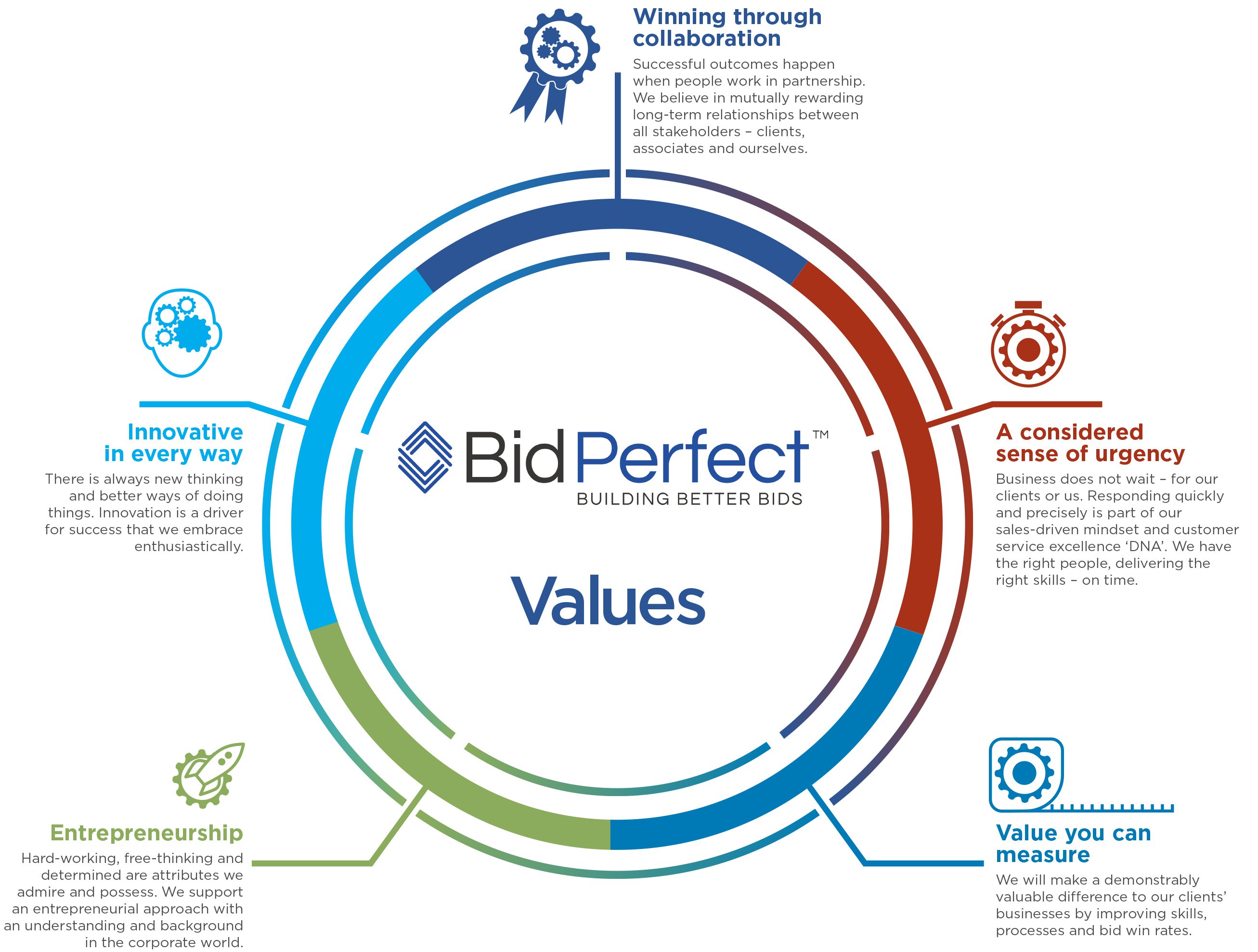 WHAT WILL BID PERFECT DO FOR YOU?​
We will help you to:
Improve your win rates 

Increase the confidence you have when writing a bid 

Grow your customer base 

Increase your revenues 

Improve your profitability Improve contract retention 

Enhance your image
Bid Perfect continues to grow and to deliver services which are the benchmark in our market place. If you are reading this and you think you may need our services, please call or drop us an email. Talking to us costs you nothing and may lead your thinking in key areas. If you contact us, we will not try to sell to you – we will give you facts, advice and clear costs. 
The rest is up to you.
Find out more about our Bid Support services
---